Azania Exclusive Collections , based in Strand Cape Town, is a clothing shop specialising in traditional South African (Shweshwe) clothing, Ankara Prints, traditional east-and west african clothing as well as accessories like earrings, bags, clutch bags. Our colours, are live and vibrant just like Africa and it's natural beauty and diverse peoples. Besides having stock in store we also custom manufacture on order, even smaller orders, with very reasonable lead times compared to the rest of the clothing industry.
Azania (Ancient Greek: ?ζαν?α) is a name that has been applied to various parts of southeastern tropical Africa. In the Roman period and perhaps earlier, the toponym referred to a portion of the Southeast Africa coast extending from Kenya, to perhaps as far south as Tanzania.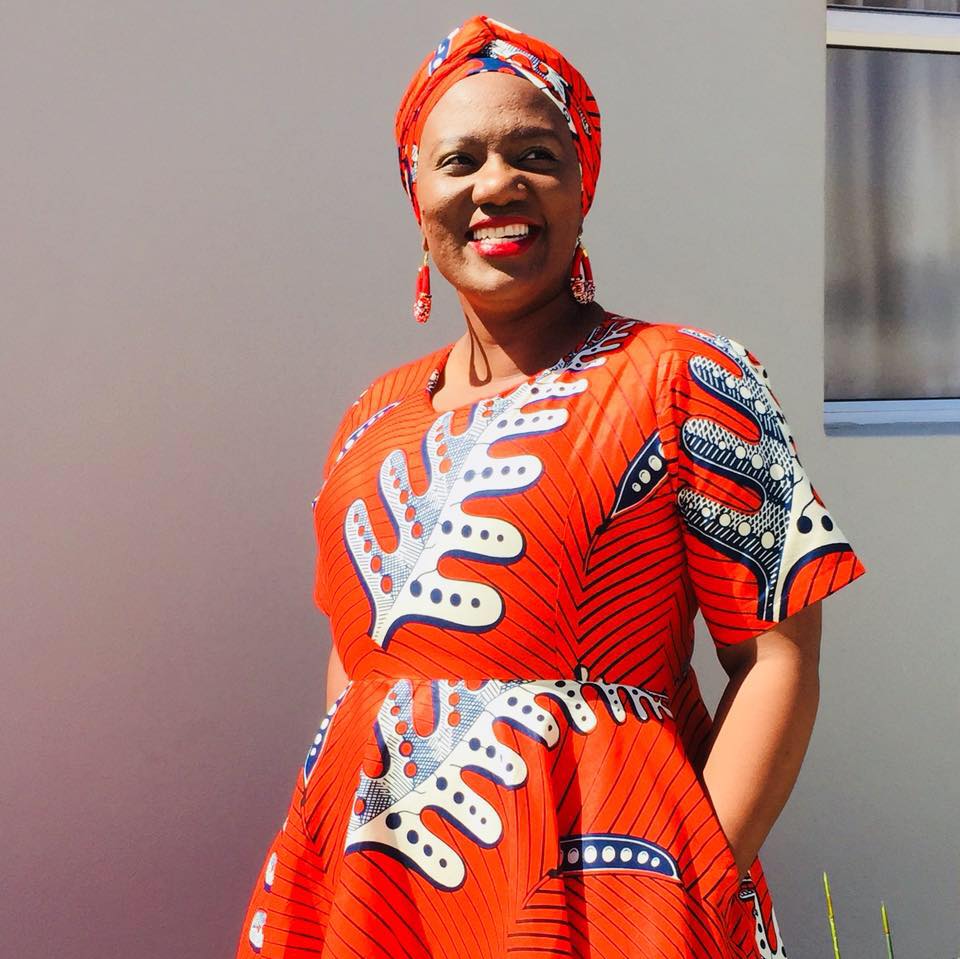 Edna Kubeka, the last born of 3 daughters from parents Johannes and Agnes Kubeka who met in the Western Cape on farms where both were working with the purpose of sending money back home to Eastern Cape where they originate from.

They were blessed with 3 daughters. I was almost born in the cells of Grabouw police station as my mom was arrested by the police for not having a passport. She was released on the morning I was born on 28 January 1984.

My parents lived a very simple life, things was pretty basic yet life was good and we were happy. I was 5 when they moved from the farm where we were born to a farm called Arumdale Farm where we lived almost all of my childhood life.
Throughout my childhood years so many things happened, but what i remember the most is that my parents and the rest of my extended family, neighbors and everyone were always talking about a person called Nelson Mandela who was in prison.

I saw on our little black and white TV our people marching and a lot of tension and violence in the country. Although life on the farm was pretty safe, the talks about what's happening in the country was spoken about daily by our elders as it involved all of us at the time. One day I heard them saying that Nelson Mandela got released and that they are going to vote for the first times in their lives and there was massive celebrations after the results of the vote.

A year later I remember my parents dancing and celebrated again, this time it was over the victory of the Springboks winning a rugby game but this time it wasn't only my people celebrating, all races were united and that feeling was so good that I don't think I'll ever forget it.

Shortly after I got news that my primary school teachers approached my parents to ask if they want to register me in the "white" school in town as they thought I had a lot of potential and would do good in that school. My parents of course rejected as they knew it was an expensive school and their salaries couldn't afford the school fees. The teachers contacted the school and found that the school does offer bursaries for disadvantage families, my parents applied and our application got accepted so I started attended high school at High School Grabouw. The few things I remember during this chapter of my life is that my father passed away during my second year in high school. Shortly after we moved from the farm to the township which the new government built throughout the country, giving us land and small houses which belonged to us. The most important thing I also remember is that subconsciously I knew that I was one of the first black students allowed in this school I'm learning at, so I have to proof to everyone that I appreciate the opportunity so I studied hard and I always got good marks throughout high school.

The same way my primary teachers saw potential in my, the same way my church at the time and some of the high school teachers and friends parents saw potential and they all decided to apply for space at Stellenbosch College for me. I knew the College opportunity is a blessing so I have to continue to work hard to complete my two year course and find a job to help my family because even though they didn't have much but they used to buy me shoes and books and uniform with the little monies they go on the farms. I used to work during weekends at catering companies in Stellenbosch and send money home for the family to have food because now for the first time in my life I was eating nutritious food at the hostel I was staying in Stellenbosch and I started picking up weight so to me it only made sense to help with extra income and let them also start eating better food.

After I completed my second year and I was still considering to do a third year, a lecturer called me and said there is a company looking for a junior consultant to join their team. I went for the interview and got the job on the spot, I was so happy, especially for the salary, it was R4000 a month which to me was a lot of money because no one in my family have ever received that much amount of money in one month. The problem now is that it's all good and well that I completed high school and college successfully and have a very nice job but who is there to teach me on how to handle this much money at the age of 20 years coming from a family who never had money and all of a sudden I have a lot of money?

I guess the same questions applies to the country at the time, after coming from being suppressed by the apartheid government, we were all of a sudden given freedom and a lot of other free things which we never had before as a country. Looking back I personally feel that the transition happened drastically without good leadership to guide us systematically on how to cope with all the challenges of being free yet to not lose ourselves in all of it. The same problem happened with me who is now all grown up and working. The world start sending me credit cards, loans, furniture and clothing cards and because I'm independent and living close to work in Stellenbosch on my own, who is there to stop me or guide me to reject all these temptations?

Before I knew it I was swamped in debt and like all of my people in the current generation which I live in, we all get trapped in the same trap and we only realize it when it's too late. Never the less, just like Nelson Mandela who was the chosen one from his little village, from his normal family to be one of the most amazing and powerful people the world have ever seen, the same way I think i was chosen from the farm, from my normal family. Although I was drowning in debt and responsibilities, I still worked hard and provided to my family and I did big things at home. I extended my mothers government house and added a kitchen and lounge with two big rooms plus a garage. I bought a little white Uno and life was good.

After 5 years in the tourism industry, I moved on to another company where I also worked for 6 years and I'm now 3 years at the 3rd company in my 14 years in the industry. I started from being a junior consultant to an intermedia consultant, to a team leader, to product manager, to marketing manager and currently I'm on directors level at my current company because I'm overseeing all departments and doing a bit of everything as I know each and every corner of the industry. I'm proud of myself because I'm never happy with just average, I always want to do
better so that I can achieve the best things in life so whatever little I have now didn't come easy, it's all me and my hard work and that's what I want to teach my two sons and the rest of the people who looks up to me.

Due to my travels to other African countries, I saw that other Africans didn't share our history and didn't get a lot of freebies from their government hence the majority of them are small business owners where in my country we are mostly workers and not owners.

I developed a passion for also wanting to own something so I took one month salary and bought a few handmade Masaai sandals and a bunch of other arts and crafts and I came to sell them in SA in 2015 part time. My little pocket business started growing slowly on the side until I decided to make it official by opening a shop in Strand where it's been operating for the past year and a half.